2005
Aleksandra Mir
Drawing
Theatre
Tara Arctic
"I kept a written log of all the conversations on board. Our dialogue reflects on the daily activity of the boat."
---
A voyage towards South Pole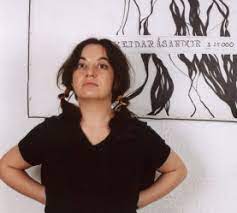 Aleksandra Mir is a Swedish-American artist known for her large-scale collaborative projects and anthropological methods which involve rigorous research in archives, oral history and fieldwork. Her work deals with travel, time, place, language, gender, identity, locality, nationality, wholeness, mobility, connectivity, performativity, representation, transition, translation and transgression.
Aleksandra Mir
"I participated in Pierre Huyghes 2005 expedition to Antarctica on board Tara 5 as a friend. Pierre did not give me any role and I was not a formal collaborator on his project where he had also invited a film crew and worked towards his search for a white penguin. I was completely free to just enjoy and experience the journey on my own terms and not produce any work. This was Pierre's genius and generosity.
But as I am an artist and the journey was very long, I made my own modest and spontaneous gestures not to intrude on his production, and more importantly perhaps, kept a written log of all the conversations on board. The format of writing was inspired by the formal log book the Captain is always keeping where they note the technical data about a journey, for security and legal reasons alone.
My log book was not concerned with technical data, but with the dialogue between the 17 extremely different people, of different gender, culture, age, experience, authority, professional and existential purpose who had come together on this journey. We were The Sailors and The Artists and several odd characters in between, such as The Doctor, The Guide and The Captain, sharing a very intimate space far away from civilization for several weeks.
Our dialogue reflects on the daily activity of the boat, the sensations we had moving through the shifting landscape of water and ice, the extraordinary wildlife that surrounded us, as well as the sexual and professional tensions that were never fully acted out as we could never afford arguments or anarchy, but instead gently repressed under a blanket of hard jokes. After a stormy night where The Sailors struggled with sails that were tearing apart in the wind while the artists were hiding in their bunks, one Sailor questioned the artists' function on board, to which an Artist responded 'We are the vehicle of Civilization'. Eventually the roles were swapped as the sailors started making art and the artists eventually learned how to be useful on board.
At the end of the journey I printed my log with illustrations in a at a Xerox shop in Ushuaia and gave everyone a copy. I know it was very much appreciated, a shared diary of sorts."
---
Discover some of her creations inspired by life aboard Tara: