2005
Aleksandra Mir
Drawing
Theatre
Tara Arctic
"Our dialogue is a source of reflection on the daily activity on board the boat. I kept a written record of all conversations on board. "
---
A logbook immersed in the flow of conversations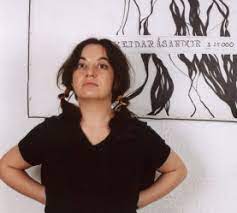 Aleksandra Mir is a Swedish-American artist known for her large-scale collaborative projects and anthropological methods which involve rigorous research in archives, oral history and fieldwork. Her work deals with travel, time, place, language, gender, identity, locality, nationality, wholeness, mobility, connectivity, performativity, representation, transition, translation and transgression.
Aleksandra Mir
"J'ai participé à l'expédition Tara Antarctique en 2005 en tant qu'amie de "I participated in the Tara Antarctic expedition in 2005 as a friend of Pierre Huygues. Pierre didn't give me a defined role, and I wasn't an official collaborator on his project. He also invited a film crew who worked with him to find a white penguin. So I was completely free to enjoy the travel experience quite simply, as I wanted, without having to do specific work. This was Pierre's genius and generosity.
Since I am an artist and the trip was very long, I spontaneously felt the urge to make my own contribution. I kept a written record of all the conversations on board. The format of my writing was inspired by the captain's official logbook, where he notes all the technical details of a trip for safety, but also for legal reasons. My logbook was not about technical data, but reflected the dialogue between the 17 fundamentally different people.
Our dialogue is a source of reflection on daily activity aboard the boat, the sensations aroused by changing landscapes of water and ice, the extraordinary fauna that surrounded us, as well as the sexual and professional tensions that arose. They were never fully expressed, but gently suppressed under a cover of caustic jokes, since we couldn't afford to let arguments and anarchy take hold of us.
Discover some of her creations inspired by life aboard Tara: