2014
Sylvain Couzinet-Jacques
Photography
Tara Méditerranée
Final works are a series of polaroid and large-format photographs.
---
A residence built around plastics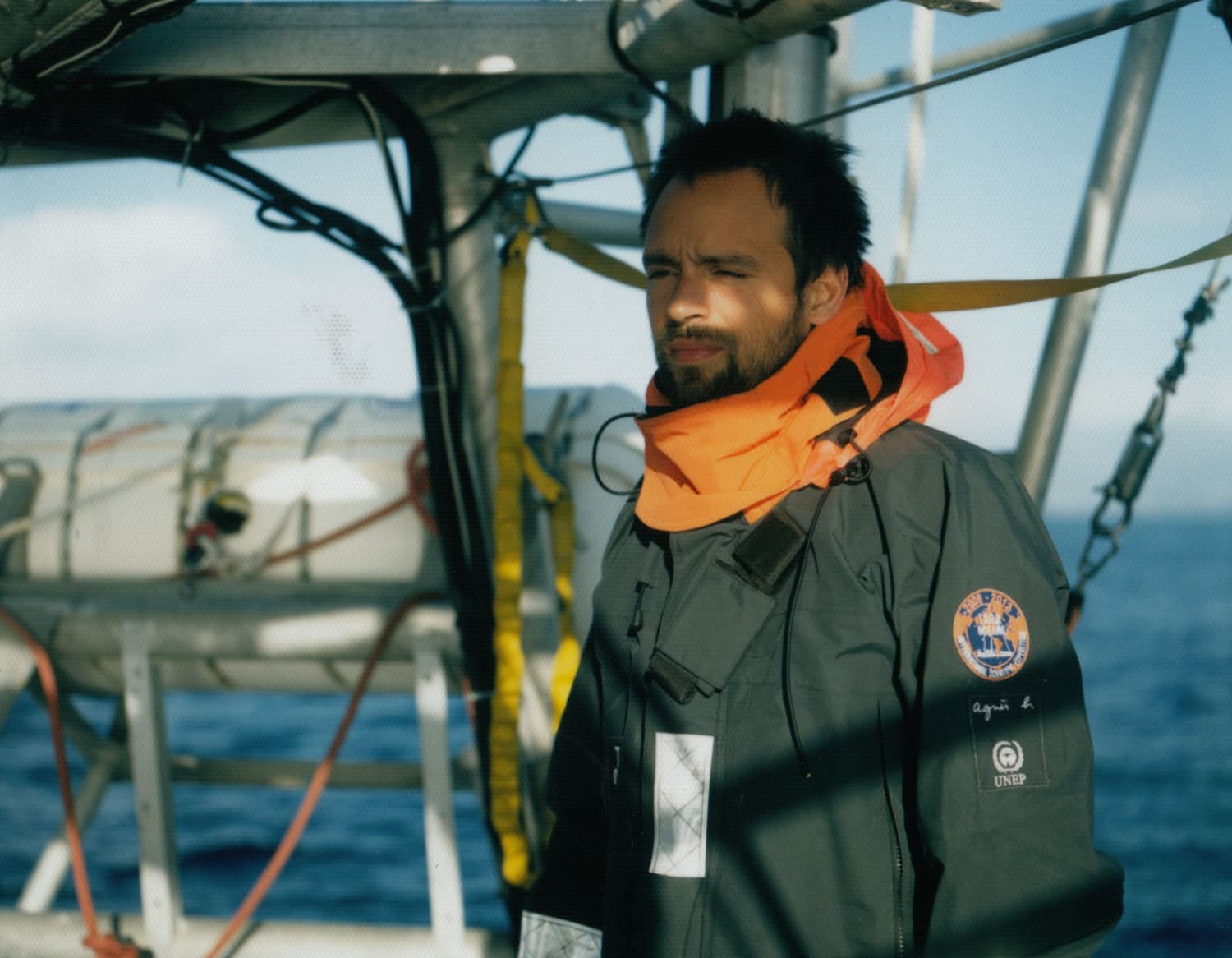 The photography of this young artist trained at the École nationale supérieure de la photographie (ENSP) in Arles (France) is resolutely contemporary, both through its technique and conceptual originality: photographs that play with legibility limits, sometimes even veiled by tinted glasses evoking those of sunglasses. The images he disrupts are darkest aspect of our modern times.
Sylvain Couzinet-Jacques

Artist-in-residence from St Tropez (France) to Barcelona (Spain)
"The proximity and conversations with Tara's crew members, both sailors and scientists, made me understand more clearly the great fragility of the marine ecosystem and the alarming pollution in the Mediterranean. This sea is a political space that physically separates the African and European continents, but also a space that encompasses since it's a living whole. The only foreign bodies in the water are residues from human activities.
While sailing, I took pictures using a polaroid camera, which prohibits from retouching the image. On these small, laminated and fragile formats, I captured some scenes of the living conditions on board and a series on the water surface that already seems to be modeled by plastic particles. Back in Paris, some large photographs framed with tinted glass came out of my workshop, condensing the sense of menace felt during my time on board."
Sylvain Couzinet-Jacques was born in 1983. He graduated from the Ecole des Beaux-Arts de Marseille (2010) and the École nationale supérieure de la photographie (ENSP) in Arles (2012). His work was presented at personal exhibitions at the Aperture Foundation in New York (2015) and at the C/O Berlin (2019). In 2012, he was awarded the Le Bal Young Talent Prize and in 2015, the Immersion Award: a French-American photographic commission, awarded by the Hermès Foundation in partnership with the Aperture Foundation. 
Between 2017 and 2018, he was received at the Casa de Velázquez in Madrid as an artist member of the Academy of France. In 2019, he was selected for the Foam Talent exhibition awarded by the FOtografiemuseum AMsterdam (FOAM) and received the C/O Berlin Talent Award, which led to a personal exhibition at the C/O Berlin and the publication of Sylvain's second book by Spector Books. 
Global challenges related to the intangible flow of data, private property and collective ownership are the basis of a visual and sculptural exploration in his artwork, which borrows renewed forms from each of his projects. Through a reflection halfway between the documentary genre for its resonance with the present and visual arts, his always contextual and participatory works tell the crises of our world and the collective strategies of its reenchantment.
Discover some of his works inspired by the living conditions aboard Tara: