2018
Christian Cailleaux
Drawing
Painting
Tara Pacific
In search of pictorial emotions, Christian is writing a graphic story that includes Tara in a larger project related to navigation and global warming.
---
A comic book written on the water.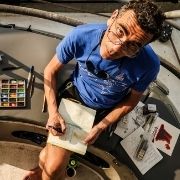 Born in 1967, Christian Cailleaux is an illustrator and comic book author who has been traveling a lot over the years and has a passion for the concept of remoteness. Through stories of peregrinations around the world (he lived and worked in Africa, India, the Indian Ocean, Quebec and Singapore), he shares his discovery of navigation which dates back to a decade.
Christian Cailleaux
SURROUNDED BY WATER, I feel more alive! Driven by feelings somewhat esoteric and hard to sum up as being part of a mysterious whole of a great strength that can be equally hostile and incredibly gentle.
Of course, this has a great influence on my drawings, especially given that I favor clean sketches, looking for the "right" line. Trying to capture a moving wave on paper becomes a true challenge! Worldwide disruptions are such that we need to make sense of our use of the world.
That said, I also plan on drawing images for the shear pleasure of creation. I'm convinced that the particular language of comic books is an ideal vector for this kind of topics. Without being too general, it can be a great outreach and awareness-raising tool.
Discover some of his works inspired by the living conditions aboard Tara: