2021
Wilfried N'Sondé
Literature
Mission Microbiomes
An elegant, poetic writer imbued with musicality who finds his inspiration in the unfathomable ocean and its invisible inhabitants.
"On the skin of the sea, lights, magic pearls,
The nocturnal symphony of aquatic peoples."
(from a poem by Wilfried N'Sondé)
---
Rich in discoveries, a novel in progress…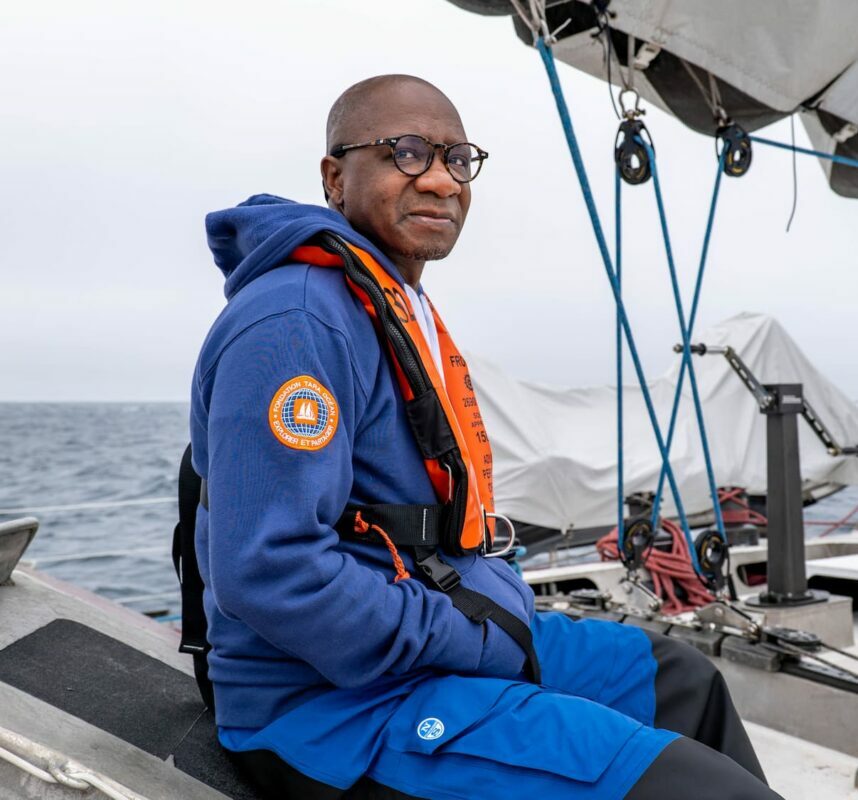 Born in 1968 in Brazzaville in the Republic of Congo, Wilfried N'Sondé grew up in Île-de-France where he studied Law and Political Science at the Sorbonne and the University of Paris Nanterre. He then spent 25 years in Berlin where he worked as a social worker and then became a recognized musician on the Berlin scene. He published his first novel Le Cœur des enfants leopards in 2007, which won the Prix des Cinq Continents de la Francophonie and the Senghor prize for literary creation. His transition to literature was confirmed with the publication of 5 other novels by Actes Sud with, in particular, Un Océan, Deux Mers, Trois Continents (2018), which received 10 literary prizes. Wilfried N'Sondé also wrote Orage sur le Tanganyika, published by Didier, as well as other books for young people.
Wilfried N'Sondé
Experience aboard Tara
"My experience on the sailboat was very interesting. It's above all a human adventure. You have to get used to life on a boat which requires a lot of energy and social resources. Being with scientists from morning to night, I had the opportunity and the leisure to ask questions. I learned a lot about plankton and the ocean in general. I was able to write during my time on board, and even submit some of what I had written to the scientists and sailors.
Je suis très satisfait car les objectifs que j'avais en venant se sont réalisés, et c'est même au-I'm very satisfied because the objectives I had when I came aboard have been accomplished, even beyond what I'd hoped for in developing the writing project. I gathered enough information for my corpus, at least to start. It's extremely encouraging. It was a very intense immersion, because it's not easy to live together on a boat in times of confinement. I stayed exactly 5 weeks on Tara without leaving, not even on a stopover. […]
Je me suis donné le pari de finir ce roman pour qu'il soit près en septembre 2022, donc j'ai eI challenged myself to finish this next novel so that it would be ready in September 2022. This leaves me exactly 11 months to finish writing this book. It's a real challenge, but it would be so nice if the text existed at the end of the mission: We could celebrate both the return of the schooner to Lorient and the publication of the book – a huge amount of work in perspective, but I'm really motivated. " – Wilfried N'Sondé
See some photos of his residency aboard Tara: