2014
Katia Kameli
Photography
Video
Tara Méditerranée
A cineaste and photographer, Katia's works focus on the "in between" and according to her, the colonization of plastic debris by plankton is part of this theme.
---
Hybrid cultures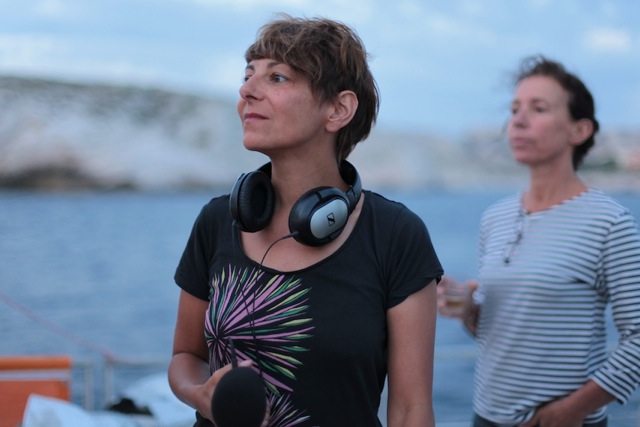 Katia Kameli, a Franco-Algerian artist and filmmaker, bases her work on a research process: historical and cultural facts feed the plural forms of her plastic and poetic imagination. She sees herself as a "translator". Translation isn't a simple passage between two cultures or a simple act of transmission, but also extends meaning and forms. A rewriting of stories appears in her work. Katia illuminates a global history, with open borders and reciprocal influences, into light to open a reflective disposition and generate a critical look at the world.
Katia Kameli
Katia will board Tara for the Algiers-Marseille crossing. Her position is that of hybridity, the "Third Space" which makes possible the emergence of other visions, directions and forms. This third space disrupts the stories that comprise it and puts them in a critical state. Therefore, it allows for rewriting and round trips between "History" and "stories". The heterogeneous forms she manipulates (video, photography, setup and drawing) also participate in this process.
Katia Kameli is a graduate of the National School of Fine Arts in Bourges. Her work found recognition in the international art and film scene and was displayed at numerous personal exhibitions: Elle a allumé le vif du passé, FRAC PACA, Marseille (2021); The Algerian Novel, Kalmar Konstmuseum, Kalmar (2020); She Rekindled the Vividness of the Past, Kunsthalle Münster, Münster (2019); Ya Rayi, Centre d'art La Passerelle, Brest (2018); À l'ombre de l'étoile et du croissant, Centre régional de la photographie Hauts-de-France, (2018); Stream of Stories, chapitre 5, Biennale de Rennes (2016); What Language Do You Speak Stranger?, The Mosaic Rooms, London (2016), etc.
She also participated in many group exhibitions: Europa Oxalá, MUCEM, Marseille; Fondation Gulbenkian, Lisbon; Musée Royal de l'Afrique Centrale, Tervuren (2021-2022), Global(e) Resistance, Centre Pompidou, Paris (2020); A toi appartient le regard (…), Quai Branly, Paris (2020); Un instant avant le monde, Biennale de Rabat (2018); Biennale de Rennes (2018); Tous des sang-mêlés, Mac Val, Paris (2017); Made in Algeria, Mucem, Marseille (2016); Entry Prohibited to Foreigners, Havre Magasinet, Boden (2015); Where we're at, Bozar, Bruxelles (2014); Lubumbashi Biennale, Congo (2013); Pour un Monde Durable, Calouste Gulbenkian Foundation, Portugal (2013); Biennale de Dakar (2012; 2018); Higher Atlas, Biennale de Marrakech (2012); Biennale de Bamako (2011).
Ses oeuvres font parties des collections suivantes : Musée national d'art moderne / Centre Georges Pompidou (Paris), CNAP, Centre National des Arts Plastiques (Paris), FRAC Hauts-de-France (Dunkerque), FRAC Poitou-Charentes (Angoulême) et FRAC PACA (Marseille), BPS22 (Charleroi) FMAC, Fonds municipal d'art contemporain de la Ville de Paris, Collection départementale d'art contemporain de la (Seine-Saint Denis) (Var), Smith College Museum of Art, (Northampton, Etats-Unis).
Discover some of his works inspired by the living conditions aboard Tara: