2003-2023: 20 years of sponsorship actions for the Tara Ocean Foundation
Whether renowned or anonymous, all our donors have been deeply committed to Tara and the Tara Ocean Foundation, some for a few years, others for up to 2 decades. We wanted to understand what drove their act of generosity and better understand their motivations by giving them a voice.
Agnès Troublé, known as agnès b: 20 years of philanthropy
For almost 2 decades, the designer Agnès Troublé, called agnès b.– a brand the stylist launched in 1975 – has been associated with the research schooner Tara, sailing on the Ocean around all continents: In 2003, Agnès Troublé and her son, Étienne Bourgois, CEO of the agnès b. group since 1986, decided to acquire the large sailboat Seamaster from Lady Pippa Blake, wife of the late Peter Blake, famous New Zealand skipper, killed 2 years earlier by pirates on board the schooner, on a branch of the Amazon River in Brazil. From this tragedy and trauma came a renaissance. Seamaster – formerly named Antarctica by her designer and first owner, the French explorer Jean-Louis Étienne – then became Tara.
Humanistic vision and rebirth
"In 2003, Étienne and I decided to purchase the schooner, with the intention of continuing the adventure started by Peter Blake: conducting ecological research onboard with scientists. We wanted to act in favor of the environment, along with other sponsors."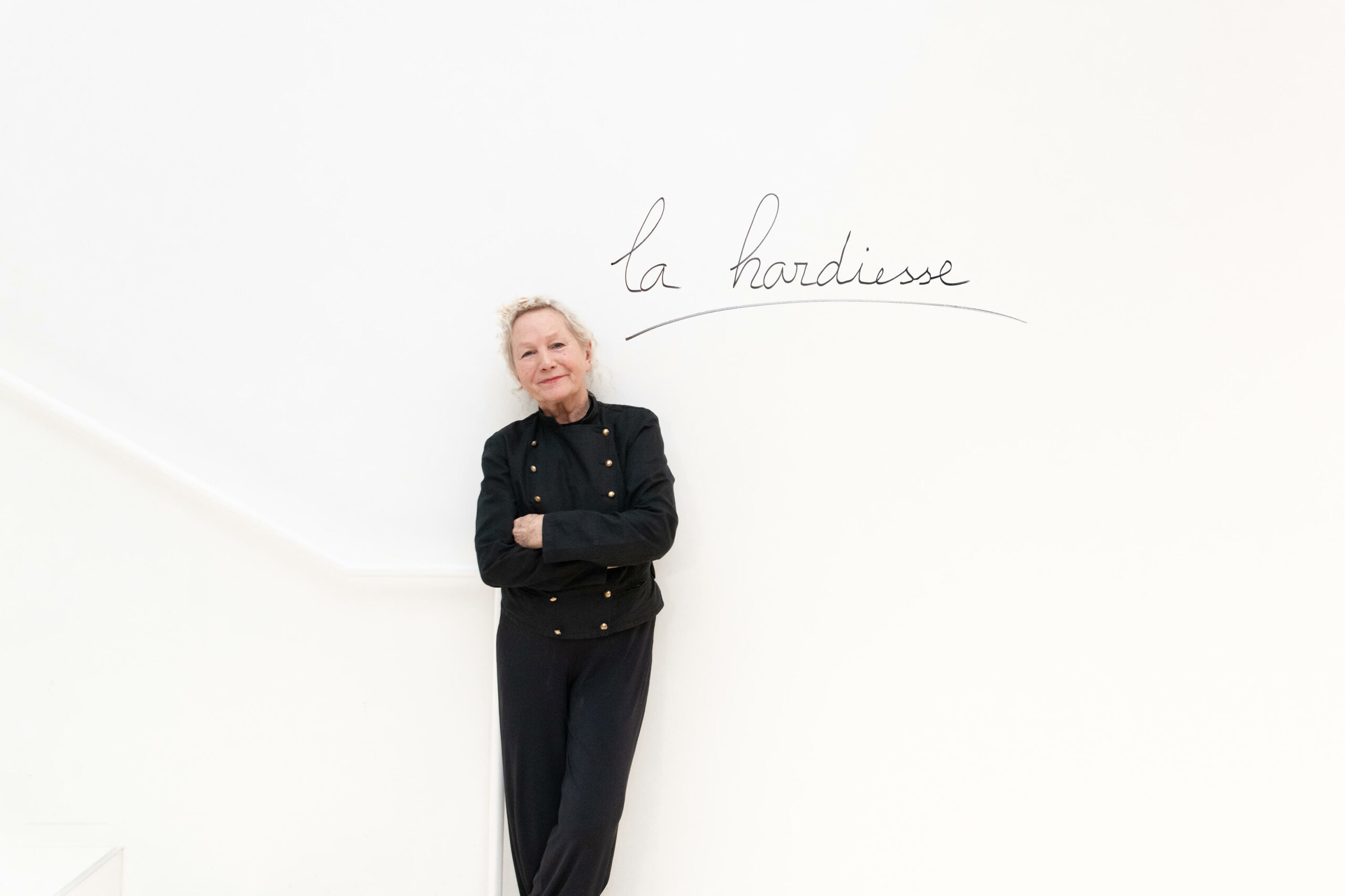 The designer, a true humanist in the longstanding French tradition, explains the origin of the sailboat's new name. "We named her Tara in memory of my father, Ado Troublé. When I was a child, he passed on to me his passion for sailing. He had read Gone with the Wind – Tara is the name of the cotton plantation in the book. For him, Tara meant a rebirth after war." Sensitivity to the environment, the ocean and the nature of things, in their most obvious simplicity; filiation; transmission of values, and construction of a collective project: Everything was already written.
The Tara program was born in 2003, and Agnès Troublé was, at the very beginning, its founding sponsor. Her action was all the more courageous since she was alone – or almost alone. She bore on her shoulders a sailboat weighing 138 tons, measuring 36 meters long and 10 meters wide, with 27-meter-high masts, already managed by a team of highly motivated sailors and scientific experts. No matter the difficulties, she's always been confident. From the beginning, her commitment to the ecological cause she defends has been intrinsically commensurate with her generosity – which doesn't need any publicity, except for the signature agnès b. affixed here and there on Tara's hull, masts and large sails. Although significant, the project's media coverage is less important to her. Indeed, in Agnes's mind, helping cannot be an empty word. She keeps repeating the word "share". Share, over and over, whenever we can. "I remember my childhood in Versailles, where I was educated in the Christian faith," she confides. I was taught from an early age to share. When there was only one pasta dish to eat, we shared it. You know, I've lived without money. I know what it's like not to have any. But if we can share and give, then we do it! Let's love one another!" Agnès Troublé was born in 1941 during the Second World War. There are moments we don't forget.
Agnes Troublé knows how to give. She's even gone as far as investing personally about 1 million euros per year to support Tara's expeditions.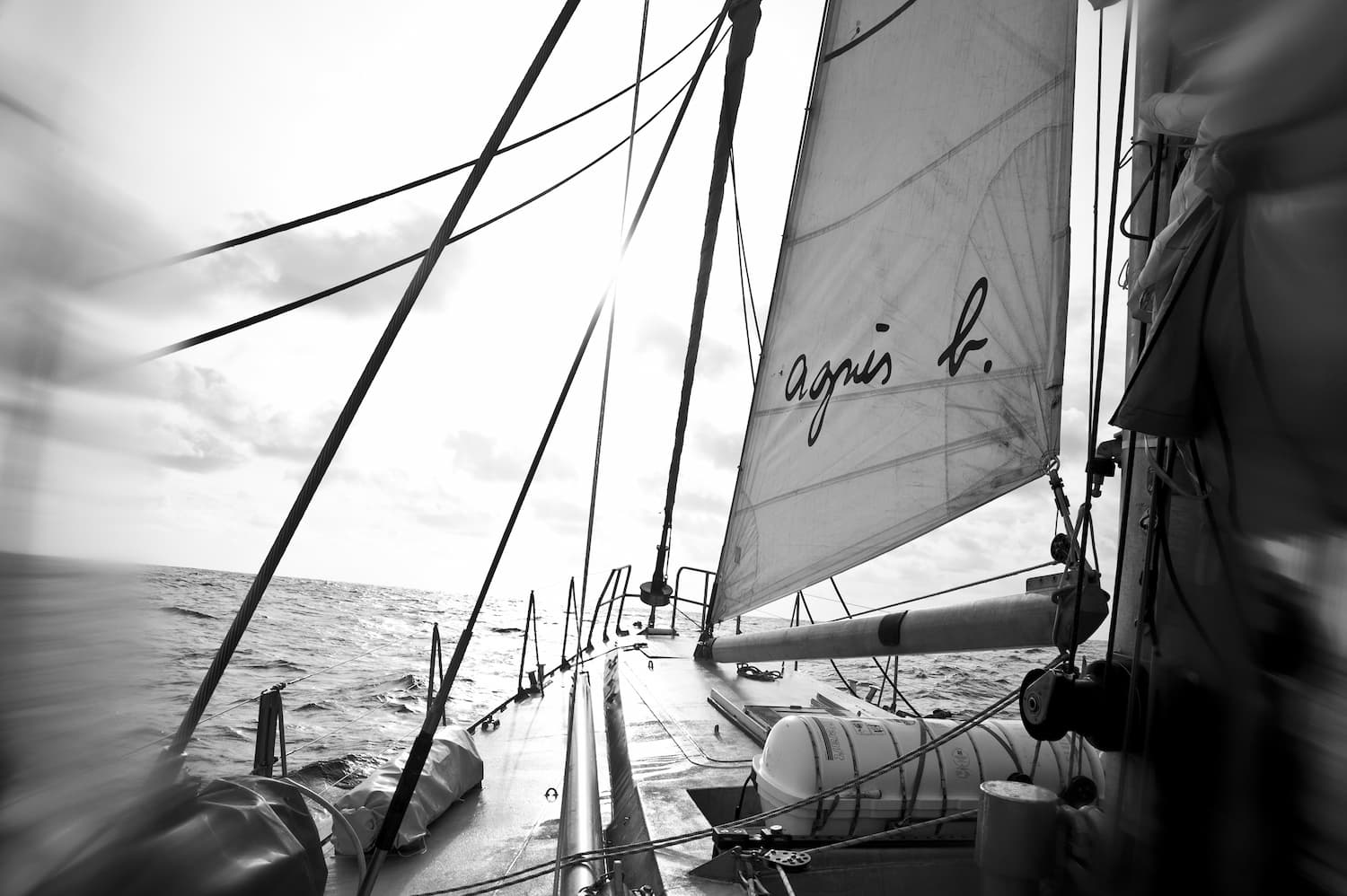 Many thanks to "Les Amis de Tara"!
Action and decision in her own words, Agnès justifies head on and with no false modesty. "Of course, I thank the groups that participate in this work alongside us, even though I remain Tara's major sponsor. The schooner now has many friends. And that's for the best! Many thanks to "Les Amis de Tara"!" I've been supporting Tara for 20 years this year. And I do it personally. This contribution is mine, not that of the agnès b. fashion house. This schooner is my way of fighting for ecology – and I say that selflessly, because we don't necessarily have to support Tara. We must also pay our taxes to help our nation. Because the rich have become even richer during the last 3 years of Covid – as if they weren't rich enough! So, as I've said before and will repeat again: it's absolutely essential that wealthy people share. It seems self-evident. However, some are generous; others aren't. I pay about 65% of my professional income to the French government. It's necessary that others contribute in this way too. They should pay their taxes – instead of hiring lawyers to avoid paying any!" Agnès Troublé wishes that more sponsors (hopefully some powerful ones!) will support Tara's future expeditions. "There's still so much businesses could do.", she adds. Since 2003, I've been saying: I'd like other rich — even ultra-rich — people to participate in the Tara project. May they join us and share their wealth! A word to the wise!" From his Paris office located rue Dieu, Étienne Bourgois, president of the Tara Ocean Foundation, sums up the situation perfectly in a few words: "We can no longer just remain contemplative."
Lucidity in action
With all her outspokenness, Agnès Troublé, who is also a film director, producer and-contemporary art collector, finds that in terms of philanthropy, the battle is far from won. And she is worried. "There are going to be more and more inhabitants on Earth and without sharing, it won't work. It's time for big leaders to give up their huge salaries and better distribute wealth. However, regarding global warming, I find that selfishness is enormous. Global military spending reaches US$2,200 billion a year! US$2,200 billion spent every year on weapons, at a time when the IPCC is sounding the alarm! We know the risks the planet runs and we keep playing with fire. For my part, in hindsight, I think it's really no coincidence that Étienne and I bought this sailboat in 2003. Because I feel I've always been an ecologist by nature! Now, I see that young people feel much more concerned and fight for ecology and that's good! But you know, this nature I'm talking about is my nature. In my life, Tara is not everything. I'm not only concerned with her. We're all upset by the war in Ukraine, of course. I created a heart for Ukraine, as I did for Sarajevo in 1992. It's the flag of Ukraine on a black background, with blue at the top and yellow at the bottom. People buy it and profits go to Kiev." Agnès Troublé is first and foremost a woman of her time: Goodwill combined with lucidity in action.
Time to take responsibility
In 2012, Agnès Troublé, Étienne Bourgois and Romain Troublé (executive director of the Tara Ocean Foundation since the beginning) welcomed aboard Tara the then UN Secretary-General, Ban Ki-Moon in New York Bay on the Hudson River. In 2015, Ban Ki-Moon boarded the schooner again during the COP21, when Tara was berthed at the foot of Pont Alexandre III in Paris.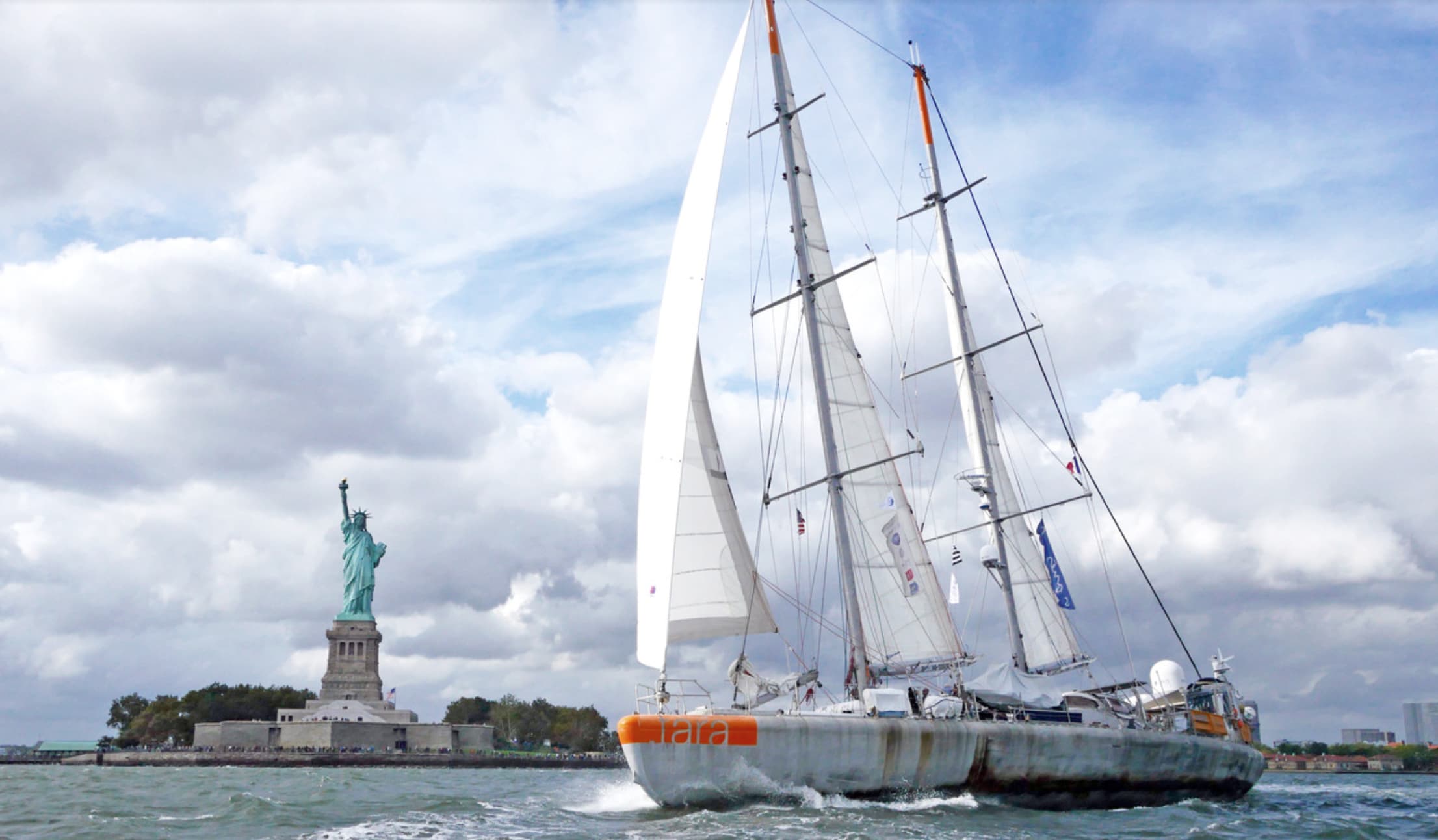 For years now, the time for responsibility has come for Tara and her crew. The Arctic drift between 2006 and 2007 had a considerable impact. The schooner remained locked in ice for 507 days and her scientific directors brought back a treasure trove of data. Again, between 2009 and 2013, the Tara Oceans expedition, whose purpose was to study global plankton biomass, revealed millions of previously unknown data. The results were so unexpected that the peer-reviewed scientific journal Science devoted a special issue to this mission in May 2015. Shortly followed articles in Nature and Cell. If Tara was a very idealistic project at the beginning, the Tara Ocean Foundation is now seen, thanks to all its sponsors and partners, private and institutional, as a floating research laboratory dedicated to marine protection and understanding the impact of climate change and ecological crises on the Ocean. Our final objective is, of course, to raise awareness about the dangers threatening humans and our environment. To achieve this, the goal of Tara's expeditions also involves sharing the results of our research on a large scale.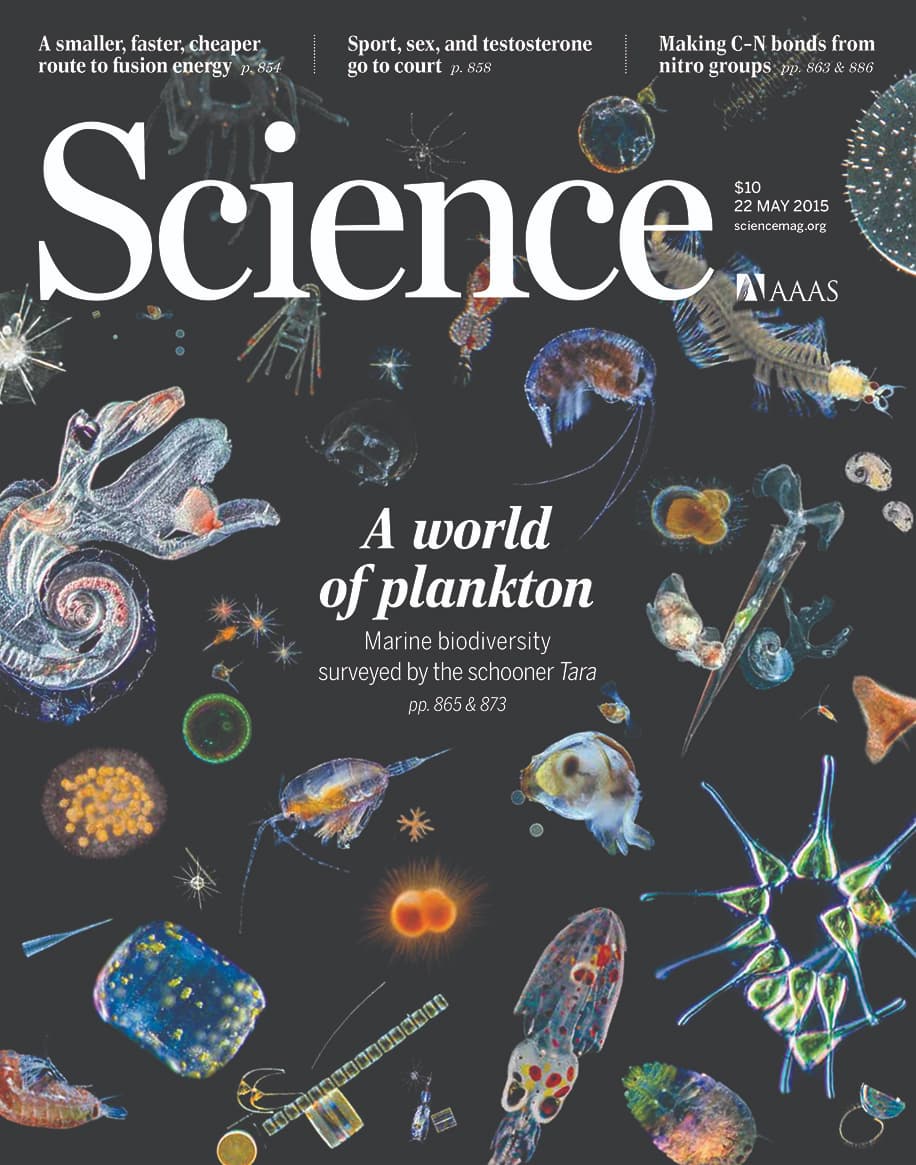 For almost 20 years, sponsorship of the Tara Ocean Foundation has brought together private and public actors, including certain low-profile philanthropists. This is the case of Lucie Maurel, vice-chair of the supervisory board of a financial services group. She supports Tara with her personal money "out of conviction and passion for the sea", she says. Lucie Maurel explains her action in simple words. "Very honestly, I'm like an ant. My contribution is a drop of water. But, maybe, if other people join me, and we add up every drop of water, together they become countless, then we may build an ocean. I'm not trying to teach lessons and everyone is free to act according to their heart and do what they want, but the fact is: We all inevitably depend on our planet's state of health. The Ocean, and in particular, the Mediterranean Sea, are in me, in my heart, because I'm from Marseilles (France). That sea is my ecosystem, and it — as well as the ocean, in general — has to be protected. I spent some time in Brittany, in La Trinité-sur-Mer, where I experienced the beginnings of ocean racing with sailors and great navigators. As a result, I was introduced to the Tara project very early, at the very beginning of the adventure. I sailed during classical regattas in the Mediterranean Sea. That's where I met Romain Troublé. Tara is a big family. An extraordinary saga. I really joined this adventure for love of sailing and sailors. They brought me so much. I also went to Greenland with the yachtswoman Isabelle Autissier, and that's where I really took the measure of things. We don't realize how much the Ocean is an essential lung of the planet. I have 3 children and they too are very invested in this cause. Our children are our teachers, and mine have heightened my awareness. The moment to act is now. Later may be too late! I'm speaking to you as a woman, as a mother, and also as the child I used to be." Lucie is also the director of a business, now president of the sustainable development committee of a financial services group, active on these essential issues on the Boards of Trustees of various service and industrial groups. "For me, to be alongside Tara and Romain Troublé — who isn't an environmentalist in the partisan sense of the word — is to support a high-level scientific experiment carried by decent, passionate and determined men and women."
Tara knows how to bring all audiences together
According to Lucie, "awareness" may be the word that best defines her philanthropic action. She feels that nations must tackle 2 major hot topics: social divide and the environment. "Unfortunately, we live in a world of fake news and misinformation", she says. "We no longer separate out what is essential from what is secondary, and people talk rubbish on the Web. Some improvise themselves as journalists when it's a real profession. It's absolutely necessary to give the floor back to scientists. The IPCC has just announced that within 3 years, everything will become more complicated, and nobody believes them. The question is how to rehabilitate scientific discussions, which are not always carried by professionals. The Tara Ocean Foundation however is surrounded by professionals, whether in terms of science or communication – because it's important to know how to talk to all audiences. As a matter of fact, Tara is a project that actually knows how to bring these audiences together. The Tara Ocean Foundation invites young people and artists on board. They rub shoulders with sailors, and are thus connected to nature and the Ocean. Tara took my own children in her wake. There's no ego on board and that's what's beautiful."
If you, too, would like to support the Tara Ocean Foundation's missions: